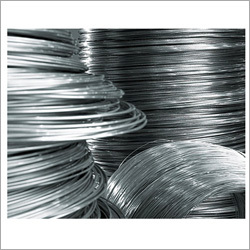 Price And Quantity
500 Meter

500.00 - 5000.00 INR
Trade Information
As per requirement Per Week

requirement Months
Product Description
This Aluminum Wire is the necessary product that is fabricated from the finest grade of aluminum alloy metal in order to make it flexible in its feature. It is supplied by us in several forms such as annealed, rolled and normalized conditions. We use the advanced level of techniques and tools for its making in order to make long-lasting, highly efficient, and enriched with strength. The Aluminum Wire we offer is treated by us by heating as per its cutting size.

Product Details:
STAINLESS & DUPLEX STEEL
RANGE:

Stainless Steel:

ASTM / ASME SA 276 TP 304, 304L, 309S, 309H, 310S, 316, 316L, 316 TI, 317, 321, 347, 410, 420, 430, 431, 440A, B & C., 446
ASTM / ASME SA 479 TP 304, 304L, 304H, 309S, 309H, 310S, 310H, 316, 316H, 316L, 316 TI, 317, 321, 321H, 347, 347 H, 410, 430, 431 & 444
Duplex Steel:

ASTM/ASME SA 276 UNS NO. S 31803, S 32205, S 32550, S 32750, and S 32760

CARBON & ALLOY STEEL
RANGE:

Carbon Steel:

Alloy Steel:

ASTM / ASME A 182 GR F 5, F 9, F 11, F 12, F 22, F 91
ASTM / ASME A 729 GR B 11 & B 22

NICKEL & COPPER ALLOY
RANGE:

Nickel Alloy:

ASTM / ASME SB 160 UNS 2200 (NICKEL 200) / UNS 2201 (NICKEL 201)
ASTM / ASME SB 164 UNS 4400 (MONEL 400)
ASTM / ASME SB 425 UNS 8825 (INCONEL 825) ASTM / ASME SB 166 UNS 6600 (INCONEL 600) / UNS 6601 (INCONEL 601)
ASTM / ASME SB 446UNS 6625 (INCONEL 625)
ASTM / ASME SB 574 UNS 10276 (HASTELLOY C 276)
ASTM / ASME SB 472 UNS 8020 (ALLOY 20 / 20 CB 3)

HASTELLOY
GRADES:

Hastelloy C-22, Hastelloy C-276, Hastelloy C-2000
TYPES:

Hastelloy Round Bar
Hastelloy Bright Bar
Hastelloy Polish Bar
Hastelloy Black Round Bar
Hastelloy Forged Bar
Hastelloy Forged Round Bar
Hastelloy Hex Bar
Hastelloy Forged Hex Bar
Hastelloy Flat Bar
Hastelloy Rod

INCONEL
GRADES:

Inconel 600, Inconel 601, Inconel 625, Inconel 625LCF, Inconel 686, Inconel 718, Inconel 800, Inconel 825, Inconel X-750
SIZES:

TYPES:

Bars, Rods, wire
Standard: ASTM, ASME, API, AISI, BS, ANSI, DIN, JIS, MSSP, NACE

INCOLOY
GRADES:

Incoloy 800, incoloy 825, Incoloy 925, Incoloy a-286, Incoloy DS
Standard:

ASTM B408, AMS 5766, ISO 9723, ISO 9724, BS 3076NA15, BS 3075NA15, EN 10095, VdTüV 412 & 434
TYPES:

Round Bar
Bright Bar
Polish Bar
Black Round Bar
Forged Bar
Forged Round Bar
Hex Bar
Forged Hex Bar
Flat Bar
Rod

MONEL
GRADES:

RANGE:

5 mm dia to 500 mm dia in 100 mm to 6000 mm Length
STANDARD:


NIRONICS 50
Features:

Nitronic 50 Stainless Steel is an austenitic stainless steel with a blend of strength and corrosion resistance that is better than Stainless Steel 316, 316L, 317 and 317L. In fact, Nitronic 50 has about double the yield strength at room temperature compared to Stainless Steel 316/316L and 317/317L. Additionally, Nitronic 50 Stainless Steel has good mechanical properties at elevated and sub-zero.
Temperatures: Another characteristic of Nitronic 50 is that it does not become magnetic even when severely cold worked – unlike many other austenitic stainless sheets of steel.
Another advantage of using Nitronic 50 Stainless Steel is its outstanding corrosion resistance in harsh environments, especially in marine application As noted previously, Nitronic 50 is much stronger than Stainless Steel 316/316L and 317/317L; however, the same fabrication equipment and procedures used for the Stainless Steel 300 grades can be utilized for Nitronic 50. In addition, the same cooling techniques used for Stainless Steel 316/316L and 317/317L can be utilized for Nitronic 50

GRADES Available:

XM-19 (UNS S20910)
Nitronic 50 Annealed
XM-19HS

NIRONICS 60
Nitronic 60 Stainless Steel is an austenitic alloy, considered to have the best galling resistance of the entire range of Stainless Steels.
Characteristics of Nitronic 60 include:

High pitting resistance
Outstanding corrosion resistance
Good high-temperature properties for temperatures around 982 degrees Centigrade
Oxidation resistance
Crevice corrosion and chloride pitting resistance is greater than Stainless Steel 316.

Nitronic 60 can be formed using common forming techniques, and pre-heating is not required to weld Nitronic 60.
Common welding methods such as gas metal arc, gas tungsten arc, and the submerged arc can be used to weld Nitronic 60. Hardening Nitronic 60 Stainless Steel calls for the alloy to be cold worked.

Primary Elements:

Between 16 and 18 percent Chromium
8 to 9 Percent Nickel
7 to 9 percent Manganese
3.5 to 4.5 percent Silicon
Halance being Iron
Trace amounts of Carbon, Sulfur, Phosphorus, and Nitrogen

Industries Served:

Oil and gas production
Hydroelectric power
Petrochemical
Food processing
Automotive
Zarine
Pharmaceutical
Construction and chemical sector.

TITANIUM
SPECIFICATIONS:
Titanium round bar
GRADE:

STANDARD:

ASTM B348, ASTM F136, ASTM F67, AMS 4928
Specifications:

Grade: Gr1, Gr2, Gr4, Gr5, Ti-6AL4V ELI, Gr.7, Gr.9, Gr.12
Standard: ASTM B348, ASTM F136, ASTM F67, AMS 4928
Size: Diameter: 4mm to 350mm, Length: 50mm to 6000mm
MOQ: 10 kg
Package: Ply wooden case or as the request
Applications: industry, glasses, and so on
Get in touch with us